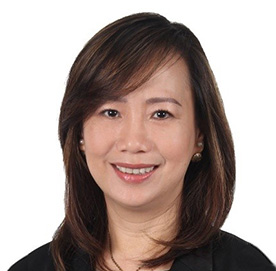 Griselda (Gay) G. Santos
Through previous roles at the World Bank Group and International Finance Corporation, Gay has more than 25 years of experience in investment and portfolio management, credit operations, operational risks, ESG and advisory services.  She retired from the World Bank Group in 2019. Today, she is the Regional Director for Southeast Asia at Water.org.  Water.org is a global NGO co-founded by Matt Damon and Gary White in 2009.  It seeks to solve the global water and sanitation crisis.   It is a pioneer in market-driven financial solutions to increase sustainable access to finance to safe water and sanitation. Gay is also a financial inclusion advocate and serves as the chair of the Financial Inclusion Committee of the Financial Executives Institute of the Philippines and a Trustee of Fintech Alliance Philippines and Global Spectrum (advocating for autistic individuals).  She worked in various USAID projects as principal specialist in Risk, SME finance, E-Commerce and Financial Inclusion.  She sits as an independent director in UNO Bank, a digital bank in the Philippines.  She developed the new financial literacy training program of the Philippines' conditional cash transfer program. She is also a regular writer in major newspapers in the Philippines.  She authored/co-authored international studies in Financial Inclusion, SME Finance, Insurtech and Social Enterprises. She holds a MBA from Johns Hopkins University and a Certificate in Internal Audit from George Mason University.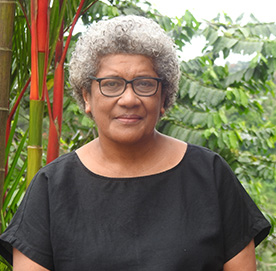 Milika Nagasima Sobey
Dr Milika Naqasima Sobey is an indigenous Fijian who currently works as a Technical Adviser-Coastal Ecosystems for GIZ Pacific. Milika was an academic for 20 years, teaching and conducting research at the University of the South Pacific.  Her research interests included nutrient cycling, fisheries, coral reef ecology and water quality.    She has worked at IUCN Oceania managing donor funded Climate Change Adaptation projects in Papua New Guinea, Solomon Islands, Vanuatu, Fiji, Samoa and Tonga.  For freshwater systems, Milika has worked on water quality monitoring, freshwater fisheries, catchment management and most recently on the political economy of the water sector in select Pacific Island countries.  Milika was one of the founding members of the Women in Fisheries Network and continues to do voluntary work for Nature Fiji-Mareqeti Viti and Fiji Environmental Law Association.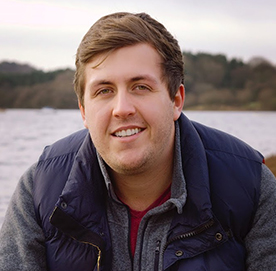 James Ellsmoor
James Ellsmoor is an award-winning serial entrepreneur, writer, and influential advocate for island sustainable development. He is the CEO of the sustainable impact consultancy Island Innovation, with experience working on islands on every continent. James is widely recognized for his work in renewable energy and sustainability, having contributed extensively as a columnist for Forbes and regularly interviewed for international publications. With a systems approach encompassing climate, oceans, energy, tourism, and conservation, James focuses particularly on small island developing states (SIDS) and sub-national island jurisdictions (SNIJs). Through initiatives such as the Virtual Island Summit, he brings together representatives from diverse islands worldwide, showcasing their leadership in global sustainability and addressing pressing issues like climate action. As a sought-after speaker and consultant, James's expertise and ability to communicate complex concepts drive positive change and shape the future of sustainable development on a global scale.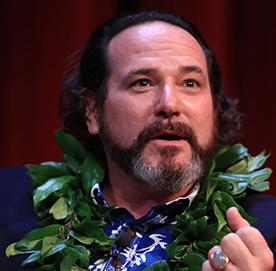 Kamanamaikalani Beamer 
Dr. Kamanamaikalani Beamer is a full professor and the inaugural Dana Naone Hall Endowed Chair in Hawaiian Studies, Literature, & the Environment at Hawaiʻinuiākea School of Hawaiian Knowledge (HSHK) at the University of Hawaiʻi, Mānoa. He serves a dual appointment in HSHK and in the William S. Richardson School of Law, Ka Huli Ao Center for Excellence in Native Hawaiian Law. Dr. Beamer has multiple publications in the study of aloha ʻāina and the Circular Economy (CE). His books include No Mākou Ka Mana: Liberating the Nation (2014) and Islands & Cultures: How Pacific Islands Provide Paths Toward Sustainability (2022). He served two consecutive terms as a Commissioner on the Hawaiʻi State Water Resource Management Commission (2013-2021). After eight years of service, his accomplishments include restoring water to forty-five streams across Hawaiʻi and challenging the U.S. Navy on issues at Red Hill. Dr. Beamer is a father, organizer, and activist in movements to advance aloha ʻāina and water justice.